Communication Workers Union, North East Region

---
Branches in the North East Region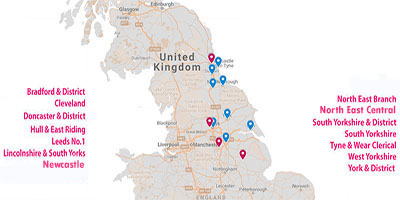 Our members' expertise includes engineering, computing, clerical, mechanical, driving, retail, financial and manual skills.
The North East Region covers the postcodes:BD, DH, DL DN, HD, HG, HU, HX, LN, LS, NE, TD (parts), TS, S, SR, WF, and YO.
There are 14 Branches within the region covering approximately 26,000 members covered by 9 postal branches, and 5 telecommunication related branches
.
| | | | | | |
| --- | --- | --- | --- | --- | --- |
| Branch Name | Branch Secretary | Facebook | | Email | Website |
| Bradford & District Amal | Andy Tarpy 07419113795 | | | | |
| Cleveland Amal | Peter Chaney 07976 164754 | | | | |
| Doncaster and District Amal | Steve West 07809 058191 | | | | |
| Hull and East Riding Amal | Lee Goulsbra-Miller 07794 678852 | | | | |
| Leeds No 1 Amal | Andy Lee 0113 2341312 | | | | |
| Lincolnshire and South York | Mark Pastorelli 07545 111404 | | | | |
| Newcastle Amal | Mark Hugall 0191 2289288 | | | | |
| North East Branch | Peter Sharrocks 07736 814769 | | | | |
| North East Central | Jason Llewelyn 0782 1481087 | | | | |
| South Yorkshire | Jaspal Singh 01709 368661 | | | | |
| South Yorkshire & District Amal | Graham Clough 07885 347261 | | | | |
| Tyne and Wear Clerical | Ben Shaftoe 0131 300 1500 | | | | |
| West Yorkshire | Ian Ledgard-Bell 07540 722761 | | | | |
| York & District Amal | John Thompson 07950 607949 | | | | |