Communication Workers Union, North East Region

---
Retired Members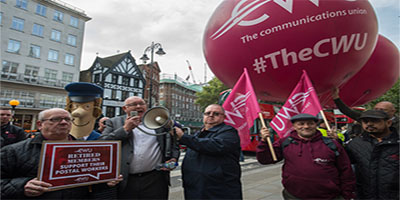 Stronger together
The CWU now has just over 17,000 retired members and the dedicated advisory committee objectives are to promote the interests of all retired members and to campaign on matters that are relevant such as Pensions, Healthcare and Mobility.
If you are retiring soon you can retain your CWU membership at a greatly reduced subscription rate, but still retain the real benefits of being part of the Union.
Become a retired member, how to join
If you have recently retired and would like to retain your membership with the CWU, you can do so at a discounted rate whilst still making use of the excellent benefits.
You will receive notification once your aplication is approved. If you have any trouble completing the form please give us a call on freephone 0800 731 7434
You can obtain an application from using the button below..
Membership forms
You will receive notification once your application is aproved. If you have any trouble completing the form please give us a call on freephone 0800 731 7434
Once completed post your application form back to us for free (no stamp required):
FREEPOST RRGT-GURE-TXHX, CWU Organising Department, London, SW19 1RX
CWU becomes first union to defend the triple lock arrangements for the state pension
The CWU has become the first union to commit to campaign to defend the triple lock, which sees the state pension rise each year by the greater of price inflation, earnings growth or 2.5%.
Phil Duffy of Greater Mersey branch warned that the storm clouds are gathering, with the Institute of Fiscal Studies, among those suggesting that the triple lock cannot be afforded moving forward. Phil told how the whole pensions debate is being framed in terms of playing the old off against the young. "Pension income is rising slowly compared to other incomes. It is catching up slowly," said Phil, who believes George Osborne has pensions in his sights for further cuts.
Ray Wilson of the Retired Members Committee gave some telling statistics on pensioner poverty, pointing out that 42% of older people struggle to buy food, gas and electricity. Supporting the motion for the NEC, Tony Kearns, senior deputy general secretary, warned that the state pension review being undertaken by former CBI director general John Cridland appears prefaced on people living longer. "So it seems likely that it will recommend extending the retirement age and removing the triple lock – so the value will go down," said Tony, who dismissed the unaffordability argument regarding state pensions, pointing out that there are billions of surplus in the National Insurance Fund.
The motion passed committing the union to campaign for the triple lock to be retained for this and the next Parliament.
Useful Contacts For retired Member's:
 Department for Work and Pensions (DWP)
 The Pensions Regulator - Committed to increasing confidence and participation in work-based pensions
 National Association of Pension Funds (NAPF)
 Financial Conduct Authority (FCA) - Independent body responsible for the regulation and supervision of the financial sector.
 The Pensions Advisory Service (TPAS)
 Age UK - formerly Age Concern England and Help the Aged Age - Information and advice for the elderly about benefits, care, age discrimination and more.
 National Pensioners' Convention -The campaigning voice of Britain's pensioners.
 Pensions Resource Groups - A group of trade unionists and other individuals interested in the subject of pensions.
 The Pensions Ombudsman - Investigating complaints about how pension schemes are run.
 BT Benevolent Fund - Exists to help current and former BT employees in need of financial assistance. Most of our help goes to BT pensioners and their dependents.
 Rowland Hill Fund - Offering financial aid to Royal Mail Group colleagues, pensioners and their families in times of need.
.